The Animal Den Pet Resort & Salon is always looking for energetic, upbeat, hardworking pet lovers to join our team. First, you literally must love and care for pets, it is so basic, but so very important. Our clients, our guests, and our staff will know right away if you are a true pet lover. Second, you must really appreciate the benefits of working for a small family business where people care about you and want to see you succeed. No corporate red tape with us, you will find we are a flexible, dynamic, and rapidly changing company to work for.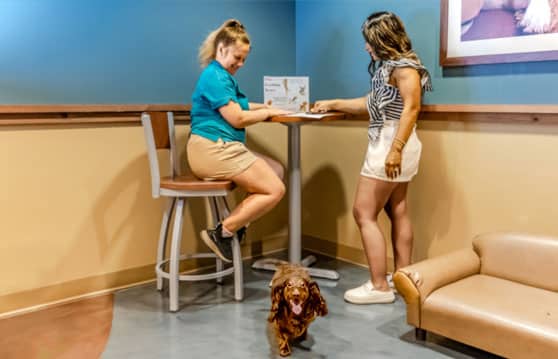 Here are some of the opportunities you can apply for today:
Our Resort runs smoothly thanks to our Resort Team Members. These teammates care for all our furry guests from sun up to sun down. Dining, medications, daily room service, resort services, daycare, and client relations are just some of the duties of the Team Members. We cross train our staff so they can work and experience all facets of this busy Resort. If you pay attention to detail, enjoy working indoors and outdoors, and are incredibly caring and loving to pets, then this could be the job for you.
Designed for high school students, our Resort Helpers have the best job in town. Resort Helpers work weekends and during school breaks and are in charge of all our fun resort services. Cuddle time with cats, ultimate playtime with pumped up pooches, and gentle walks with our elderly clients are just some of the duties for our Helpers. This is a great first job and it comes with tremendous responsibility, team work, and fun. This position is a great way to learn about pet care and see if it might be something you could consider for a career.
Resort Services Representative
Do you love office work? Are you organized, efficient, and an amazing communicator? This front desk position combines everything you love about office work with the cuteness of our furry guests. Applicants with very strong computer skills, the ability to connect and engage with clients, and an impressive ability to multitask are encouraged to apply. The Resort Services Representative is responsible for exceptional guest service, customer education, expectation setting, as well as up selling our valued products and services. This position is heavily involved in educating our customers about our services, and setting high expectations for our guests with very high quality service.
This is a very hands on position, face to face with our furry clients. No previous pet salon experience is required, but the Salon Assistant needs a general knowledge of dogs, proper care for pets, and have a huge love of animals. This position is ideal for someone interested in becoming a professional groomer or someone who has already begun professional grooming training. The Salon Assistant is primarily responsible for bathing and drying pets as well as duties pertaining to salon maintenance, caring for the pets, and providing outstanding customer service.
Certified professional groomers with at least two years of professional grooming experience are encouraged to apply for the best grooming job ever! The income is amazing, the clients are wonderful, and this unique, small, family owned salon is where you will feel welcomed and valued. Our groomers have access to a complete line of supplies and equipment and our front desk will arrange and schedule your grooming appointments while you take great care of the clients. Interested Groomers can work as little as one day a week or as much as five days a week.
Salaried management positions are typically open for experienced supervisors, leaders, and managers.  These full time positions are hands on, multi-tasking business management positions where leadership and communication are critical. Our management team helps to manage all facets of the operation with a primary emphasis on staffing. Applicants with previous management experience are preferred and previous pet related work experience is preferred but not required. Management can expect to be responsible for resort operations, staffing and personnel, as well as business operations. Leading by example, demonstrating ownership, and developing others are great skills to bring to this position.