Our Daytime Retreat is a unique, small-group daycare for dogs. This resort service provides our Resort families with a safe, fun, stimulating environment for their dogs to play off-leash with other dogs under the careful supervision of our trained staff.
Our Resort offers both an indoor space and an outdoor space for our Daytime Retreat participants. Inside, the climate-controlled playroom has specialized flooring that is gentle on paws and joints and offers interactive playground equipment. Our shaded outside play yard features artificial canine grass, puppy playgrounds, and plenty of room to play.
During the day, your furry friend will enjoy socializing with other dogs, playtime in our outside playgrounds, and the chance for a snooze if they wish. Fresh water is always available and treats or meals can be provided upon request.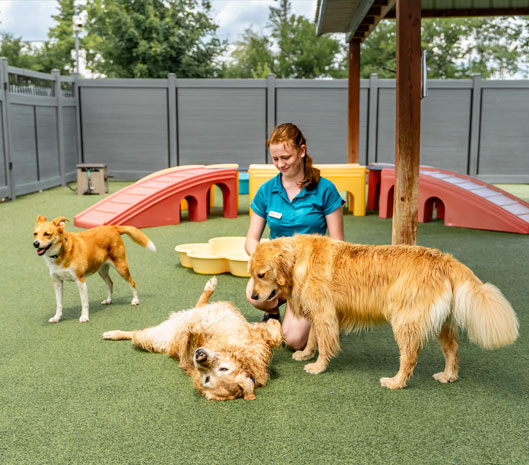 Request a reservation today!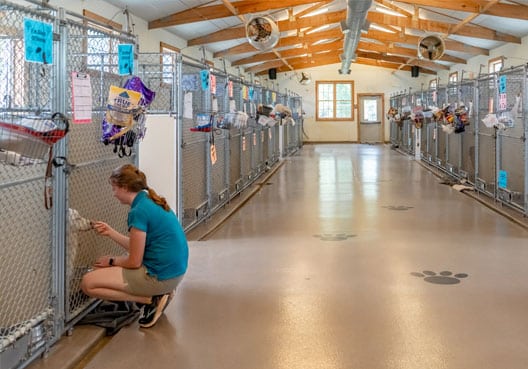 For those dogs who are not able to play with other dogs (unable, unwilling, unfriendly) we do offer Resort Daycare. Resort Daycare is for those occasions you need to drop off and pick up your pet all within the same day and want your fur baby to be attended to, cared for, and safe. Resort Daycare dogs stay at the Resort with all the other boarding guests and enjoy all the amenities of either a standard or deluxe den. This service is charged on an hourly basis and is offered 7 days a week during our normal business hours.
Why Choose The Animal Den?
Our Daytime Retreat and Resort Daycare services are perfect for the pet who spends time alone during the day while you are at work. With hours of 7 AM to 6 PM, you can drop them off on the way to work and pick them up on the way home. We guarantee they will LOVE it! Our Daytime Retreat and Resort Daycare participants usually go home happy and ready to snooze at the end of the day which you will LOVE.
Daytime Retreat and Resort Daycare services are also a nice chance to get what is sometimes a much-needed "break" from our very active canine friends. So, give yourself a break and let them wear us out for a change!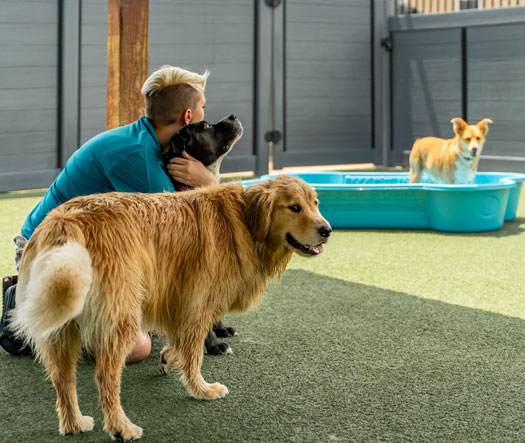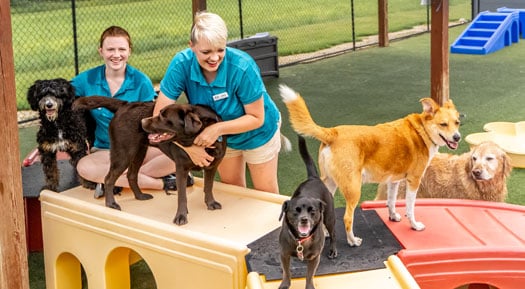 Personalized services such as private playground time, a nature trail walk, and bathing or grooming are always available to our Daytime Retreat and Resort Daycare participants. Just ask for these great services when you drop off your darling at the Resort. For added convenience, our Pick-up and Delivery service is a great add-on to their day. We will pick them up in the morning at your home, and bring them home exhausted at the end of the day. Leave everything up to us. The Animal Den will take great care of your fur baby.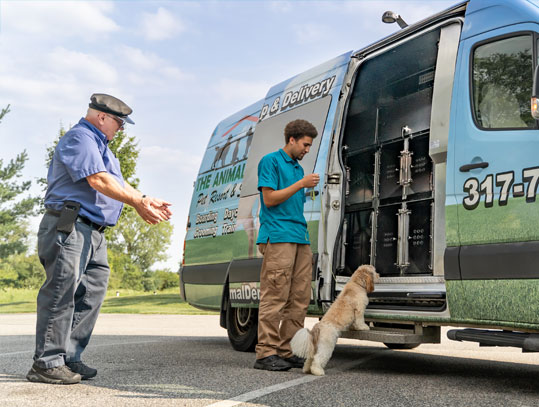 Pick-Up and Delivery Service
Imagine a world where your furry friend can enjoy a day of pampering, play, and relaxation without you having to lift a paw. Introducing our Pick-Up and Delivery Service at The Animal Den, designed to make your life easier and your pet's day extraordinary. For your convenience, our customized van is suited to fit the travel needs of pets of all sizes and keep them safe and secure during their ride. We are fully equipped to care for your pet from your doorstep to ours. At the end of their unforgettable day, we'll safely deliver your furry friend back home, saving you time and offering peace of mind.
Frequently Asked Questions