Your pet will live the life in our Deluxe Cat Resort Cottages. These cottages are very comfortable with plenty of room for snoozing, eating, and "taking care of business." For those felines that just want to lay around, our cozy love seat is the purrfect place for cat napping and lounging. We have a grand "Catnasium" for the frisky feline to climb, jump, play, or take a "cat" nap. Even the most discriminating cats have found happiness here!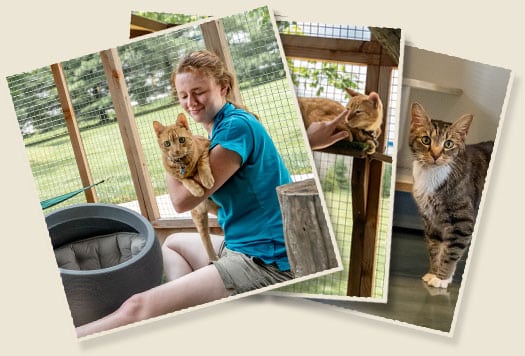 Request a reservation today!
Cat Personalized Services
We offer several add-on resort services for our feline friends including cuddle breaks, savory tuna treats, and fresh spring water. The cuddle break is a loving, quality time that your feline is sure to enjoy. Our staff will provide personal one-on-one time with your pet while brushing, petting, and loving on them. Whatever they prefers, whether it be chasing after a favorite toy or just sitting on a lap, consider it done.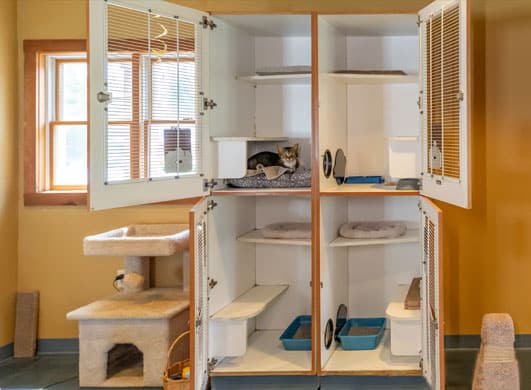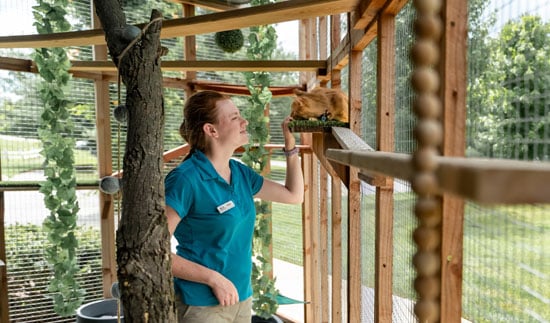 Designed to provide the ultimate outdoor experience while ensuring their safety, our spacious catio offers a haven for cats to explore, play, and bask in the warm sunshine. With a variety of climbing structures, cozy lounging spots, and interactive toys, our catio caters to every feline's desire for adventure and relaxation. Our catio's secure mesh enclosures allow cats to enjoy the sights, sounds, and scents of nature while preventing any unwanted encounters.
Animal Den clients always enjoy all the little extras we do
While you're checking in and out, we'll be right out to your car to load and unload your pet's belongings.
Our facility is cleaned and disinfected daily to ensure a healthy environment for your pet's stay.
We'll launder your pet's bedding the day they go home and as often as needed while they stay with us.
All cat litter boxes, cat litter, and cat dishes are complimentary. We also feature a fresh-flowing water fountain to quench their thirst.
Our highly trained staff will administer your pet's medication at no extra cost to you.
No matter what you are feeding your pet, we will feed them just like you do at home at no extra cost.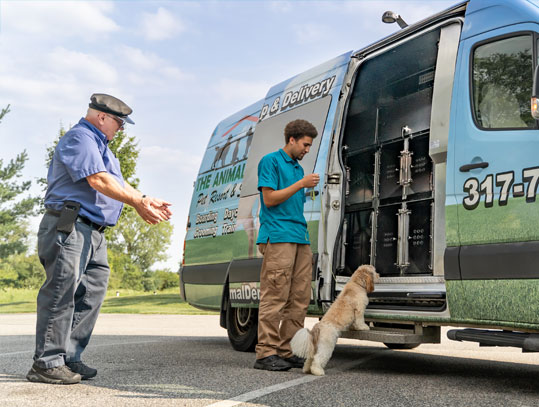 Pick-Up and Delivery Service
Imagine a world where your furry friend can enjoy a day of pampering, play, and relaxation without you having to lift a paw. Introducing our Pick-Up and Delivery Service at The Animal Den, designed to make your life easier and your pet's day extraordinary. For your convenience, our customized van is suited to fit the travel needs of pets of all sizes and keep them safe and secure during their ride. We are fully equipped to care for your pet from your doorstep to ours. At the end of their unforgettable day, we'll safely deliver your furry friend back home, saving you time and offering peace of mind.
Frequently Asked Questions