Get your pet looking their best!
Grooming your pet is an important aspect of her health and well-being. Not only will they feel and look better after their pet grooming services appointment, but it also helps to reduce the discomfort of tangled or matted hair. Regular grooming may reduce the scratching and pulling of the coat and possible hot spots that are often associated with mattes and tangles. As a pet owner, you always want your pet to look and feel their best. Keeping their coat in top condition can be, at times, more than tricky.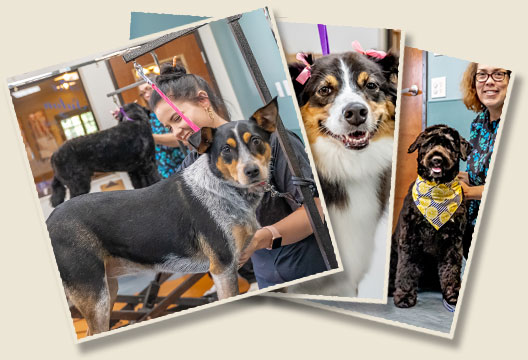 Request a reservation today!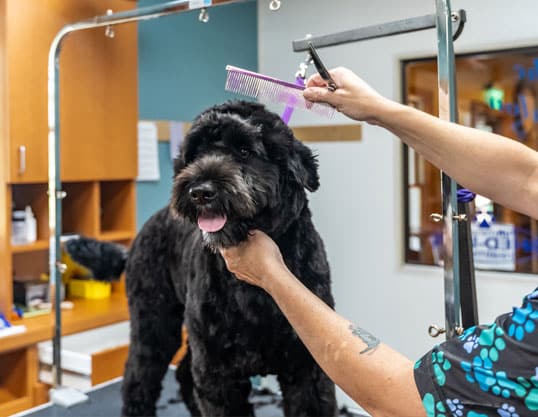 Comprehensive Pet Grooming
During your consultation, our groomer will discuss the style and cut you are looking for and listen to any concerns you may have experienced from previous groomers. A variety of  pet grooming services are available which include all the fun extras that will make your pet sparkle! The groomer will then examine your dog and ascertain any areas that may be questionable, noting problem areas, and check for fleas. The groomer will then offer her recommendations, review the groom instructions, and estimate a fee. This estimate will be agreed upon by you and the groomer so there are no "surprises" when you come to pick your dog up.
When you call to schedule a groom appointment, The Animal Den's staff will give you an approximate fee you can expect. This quote is just an estimate. The more accurate estimated fee is given to you during your consultation with the groomer while she is examining your pet.
Always Included…
A gentle, cleansing shampoo & vitamin enriched conditioner
Nail trim
Ear clean
Pad clean
Brush out
Bandana and Cologne Spritz
Your desired, clip, trim, or style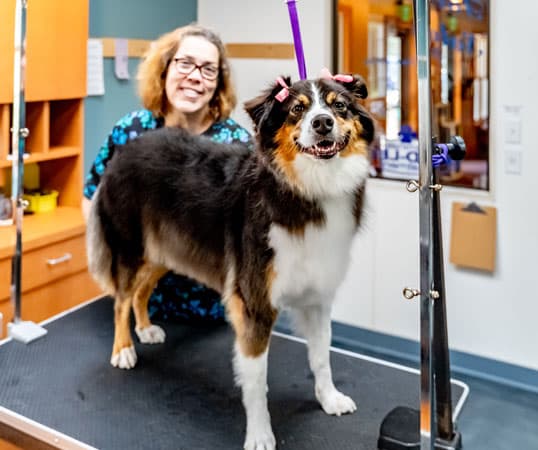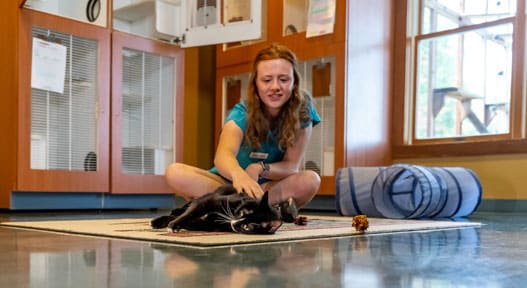 If you have a friendly cat who loves to be groomed, we can give your pet a luxurious bath and trim their nails. Please call to ask about availability.
This resort service is for dogs and cats who are between grooming appointments and just need freshened up or for those pets who don't require a trim, clip, or style. This service is available daily; please call to schedule your pet's appointment today.
Extra large breeds are never an obstacle in our salon. Our large, walk-in shower allows our staff to bathe any pet in comfort. They'll never feel confined or trapped because our shower is roomy and completely open on one side. With everything just at arm's reach, our staff will have your large breed dog squeaky clean and feeling their best!
Full service baths for every pet, large or miniature
Always Includes:
A gentle, cleansing shampoo & vitamin-enriched conditioner
Nail trim
Ear cleaning
Blow dry
Brush out
Bandana and Cologne Spritz
At The Animal Den, we understand life can be hectic. To help ease the chaos, we have added Express Groom Service. Express Groom allows you to move to the front of the line and get In, Out, & Done with your pet's grooming appointment in less than 3 hours*.
Availability of this service varies by groomer. Please call to inquire if the current groomer on staff offers Express Groom Service.
If you are pressed for time, let Express Groom put you back on schedule.
*Results and timing depend on breed, size, coat, condition, groom, etc.
Eliminate Shedding with our Deshedding Treatment
The Deshedding Treatment at The Animal Den is a thorough process specifically designed to exfoliate and moisturize your pet's skin to reduce shedding and provide a deep nourishing clean, leaving their skin and coat healthy.
Our de-shedding treatment begins with a de-shed shampoo and one of our renowned pet hotel massage baths that aids in the stimulation of your pet's fur follicles and, as an added bonus, greatly benefits the pet's circulation. Then, we use a shed control conditioner that moisturizes their skin and conditions the coat to help reduce shedding. Finally, we dry your pet's coat with a high-velocity dryer, while brushing with a special de-shedding tool to further extract the remaining loose hair and undercoat fur.
Make Your Pet's Hair and Skin Healthier with our Miracle Spa Treatment.
A special product is used with our premium shampoo to eliminate 95% of yeast, mold, mildew, fungus, and bacteria. After the massaging bath and your pet is fully dry, The Skin Works cream is hand rubbed into the pet's skin to moisturize, soothe, and fight bacteria.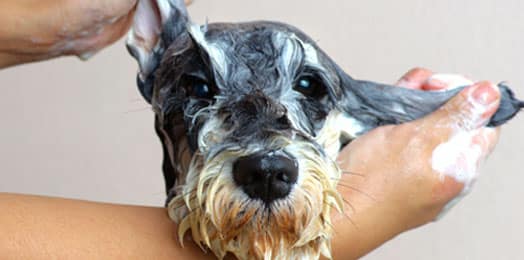 A mild, yet concentrated, lightly foaming facial cleanser will soothe and balance the skin. This salon add on service does offer some exfoliation and is slightly hydrating. The refreshing blend of vanilla and blueberry effectively removes dirt and tear stains, and will not irritate eyes. Your baby will be adorable and you will love those snuggly kisses!
A great add on to your little or not so little one's groom or bath, our teeth service works fast and naturally to help reduce plaque and tartar with no toothbrush required. The teeth gel helps to kill germs that cause bad breath, plaque and gingivitis. The Mint Foam keeps teeth and gums clean. Its natural formula helps freshen their breath.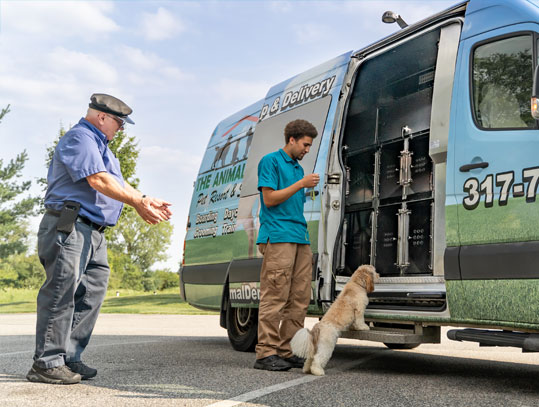 Pick-Up and Delivery Service
Imagine a world where your furry friend can enjoy a day of pampering, play, and relaxation without you having to lift a paw. Introducing our Pick-Up and Delivery Service at The Animal Den, designed to make your life easier and your pet's day extraordinary. For your convenience, our customized van is suited to fit the travel needs of pets of all sizes and keep them safe and secure during their ride. We are fully equipped to care for your pet from your doorstep to ours. At the end of their unforgettable day, we'll safely deliver your furry friend back home, saving you time and offering peace of mind.
Frequently Asked Questions