Our most popular option, the Standard Den offers your pet both indoor and outdoor space and is enjoyed by our active and social canines. Throughout the day, these pups move freely from their inside room (20 square feet) to their private spacious outside patio (56 square feet). They enjoy basking in the sun on warm days and resting comfortably at night. The standard den is perfect for the social pet who is accustomed to friends and the busy lifestyle of most families.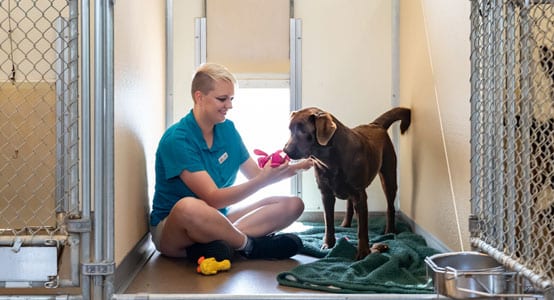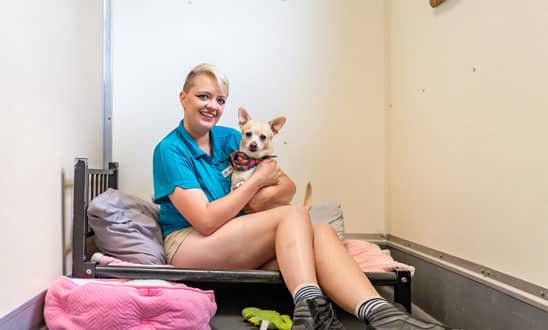 As an indoor only option, our Deluxe Suites is best suited for those furry guests who need a little extra TLC. The Deluxe Den is the perfect alternative for those requiring a quieter, more relaxing experience. In this climate controlled room, each suite offers a raised bed, comfortable pillows and blankets, and paw and joint friendly floor. Our deluxe dogs appreciate our hands on care and are escorted outside throughout the day for any business they need to attend to.
Additional services offered to our pet guests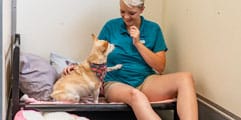 Cuddle Breaks are designed to give your pet the undivided attention they crave. A staff member devotes one-on-one time to your dog, with ample hugs, scratches, and soothing words.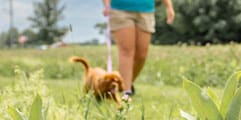 If your dog likes adventure, and enhanced fitness, take your pet hiking on our nearly 11 acres of property complete with nature trails where they may see a variety of wildlife such as deer, rabbits, birds & more!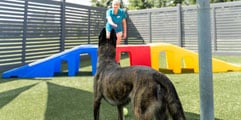 Playtime is not just an activity; it's an experience! Our facility boasts four state-of-the-art playgrounds (our Deluxe Playgrounds and Ultimate Playground) designed to cater to every dog's idea of fun and adventure.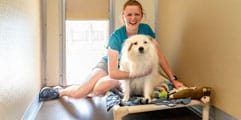 Our specialized Room Services go above and beyond to ensure your dog feels right at home and include dessert and tuck in, bed rental, and spring water.
Request a reservation today!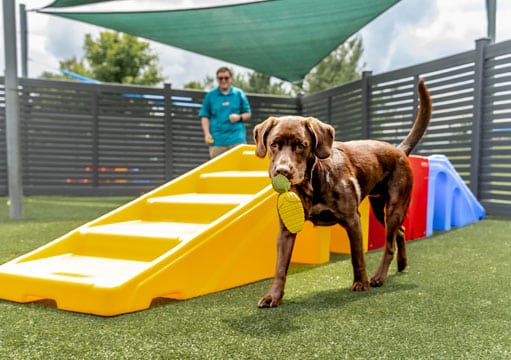 Playtime is crucial for a dog's overall well-being, serving as much more than just a means of entertainment. It's an essential component of their physical health, helping to maintain an ideal weight, build muscle tone, and improve cardiovascular fitness. Moreover, playtime enhances mental stimulation, which is critical for a dog's cognitive development and overall mental health. It can help alleviate behavioral issues like excessive chewing or barking often triggered by boredom or anxiety.
Our Resort Staff are trained to administer all medications including injections. We cater to your pet's individual diet insisting that you bring your pet's food from home so we can serve them just like you do. We strongly believe this will keep your pet in their regular routine and help their digestive system run smoothly. We maintain strict logs and follow your instructions to the letter. All food intake is recorded as well as their "restroom" habits, and all this information is included in the report you receive at check out. We do this for each and every pet at no additional charge.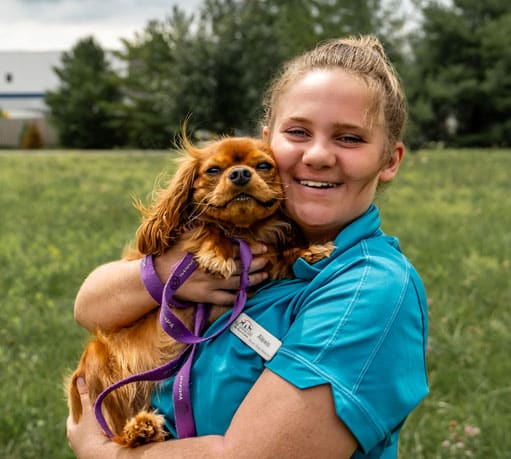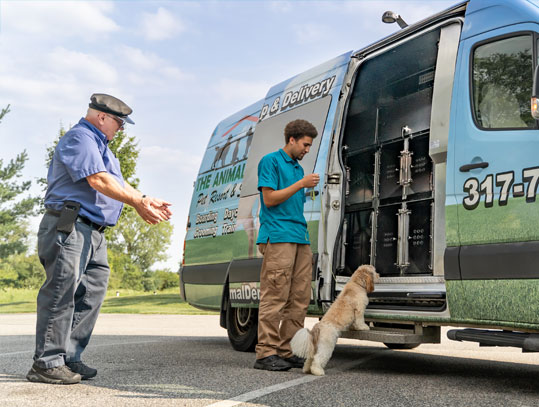 Pick-Up and Delivery Service
Imagine a world where your furry friend can enjoy a day of pampering, play, and relaxation without you having to lift a paw. Introducing our Pick-Up and Delivery Service at The Animal Den, designed to make your life easier and your pet's day extraordinary. For your convenience, our customized van is suited to fit the travel needs of pets of all sizes and keep them safe and secure during their ride. We are fully equipped to care for your pet from your doorstep to ours. At the end of their unforgettable day, we'll safely deliver your furry friend back home, saving you time and offering peace of mind.
Frequently Asked Questions